Camping
We have limited camping availability, usually reserved for campers coming with another group using our main lodging facility. We have two 30 Amp and one 20 Amp electrical hookups as well as water. We do not provide a dump station. The camping sites are adjacent to our shower and bathroom facilities, fire pit and horse corrals. Campers staying with a group that is renting our lodging facility have full access to our other activities.
For those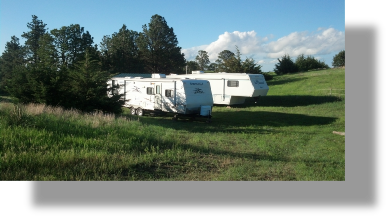 folks traveling through this area with your horses, we also provide overnight lodging for your horses, electric and water hookups for your camper, shower and restroom facilities, or you can use our guest lodging. We even have trail riding opportunities for an additional charge.
Call us to help you custom plan a trip for your occasion!
Accommodation Pricing
RV Hook-ups: $22.00 per night (includes one person). Each additional person $8.00. (Children under 4 free)
Tent Camping: $8.00 per person for adults. Children under 8, $3.00.