Accommodations
Our guest lodge offers a rustic getaway for you and your family or friends to relax and socialize after a day of activity or to simply kick back and watch the world go by. Nestled along the breaks of the beautiful Niobrara River Valley, you will see and hear wild ducks and geese as they come land in our marsh or along the river. It's a rare occasion when an early morning or evening trip on the road to the lodge doesn't result in the sighting of several deer or turkey and if you take the time to listen, the coyotes will serenade you at sunset!
We specialize in group lodging for family re-unions, multi-family gatherings, church retreats, sports camps, team building retreats and for hosting meetings and special events. Our lodge includes a large kitchen, dining hall, lounge room, 7 bedrooms (each with their own bathroom and shower) and a separate shower building. We can accommodate groups from as small as 10 to as large as 64.
When you rent our lodge, your group has sole use of our facilities and activities including a fully furnished kitchen, large event grill, dining hall, yard games, hiking, catch and release fishing, fire pit for evening bonfires, access to the river for swimming or wading and a host of other activities.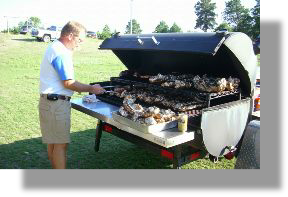 You can use our kitchen and grilling facilities to prepare your own meals or we can arrange a meal plan where we provide meals of your choice for your stay.
If you are interested in team building activities we have experienced staff led programs including such activities as an obstacle course, spider wall, orienteering, nature hikes, geocaching and even paintball.
To help keep your costs low we incorporate a "summer camp" philosophy and provide bunk bed sleeping arrangements and provide a bottom fitted sheet. You provide your own bedroll!
We also have limited camping availability, usually reserved for campers coming with another group. For those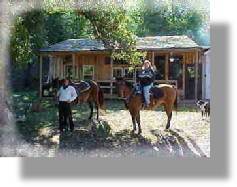 folks traveling through this area with your horses, we also provide overnight lodging for your horses, electric and water hookups for your camper, shower and restroom facilities, or you can use our guest lodging. We even have trail riding opportunities for an additional charge.
Call us to help you custom plan a trip for your occasion!
Accommodation Pricing
$22.50/person/night (ten person minimum) $25.00/person/night (less than ten in party) **Plus appropriate state and local taxes.

Meal Plan Pricing
You can select from a number of meal options. You can use our facilities to prepare your own meals or choose to have us prepare from one meal during your stay to all of your meals. We have a 20 person minimum for all meal plan options!
Breakfast
Continental - includes, cereal, toast, bagels, fruit and beverage.
$3.50
Hot breakfast - includes, pancakes, sausage, eggs and beverage.
$6.50
* Plus appropriate tax
Lunch/Supper
Select from the following entrees: tater-tot casserole, macaroni/ham and cheese, taco/nacho bar, spaghetti, brats on the grill, grilled hamburger, goulash. All meals include vegetable, salad bar, dessert and beverage.
$7.00
* Plus appropriate tax
Supper
Select from the following entrees: roast beef or pork, 1/4 grilled chicken.
$9.99
Grilled steak, home smoked ribs or chicken on our wood fired smoker.
$15.95
All meals include; vegetable, salad bar, dessert and beverage.
* Plus appropriate tax