Canoeing and Tubing
Niobrara Riverview Retreats is conveniently located just 3 and 1/2 miles West of the western boundary of the "Wild and Scenic River" designated portion of the Niobrara River. This 76-mile reach of the Niobrara River was added to the nation's Wild and Scenic River System in 1991 to showcase a stellar example of a Great Plains river and preserve a unique ecological crossroads where six distinct ecosystems, some at or beyond their normal geographic limit, mix. National Geographic Adventure magazines', March/April 2000 issue, listed canoeing the Niobrara River as one of America's Best in their first annual ADVENTURE 100 article.
Let us help to arrange your canoe or tubing trip down the Niobrara River. We have partnered with one of the top local full service outfitters and will help you to make your reservation for an enjoyable and memorable trip. They can provide canoes, kayaks, rafts or tubes along with paddles and life preservers for your trip. They can also provide shuttle service so your vehicle will be at your selected pull out point or select a shuttle bus option back to your starting point.
Several trip options are available, ranging from a few hours to full day or even overnight trips. It is always best to plan your trip in advance to get the best selection of availability and trips!
Pricing
Tanking!
Looking for a new way to float the river? Try tanking down. With our plastic tanks and a picnic table for lounging, it is the newest fad on the river!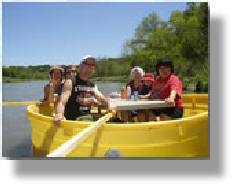 4 person minimum- 6 person max.
$50 each person----- Rentals with Deluxe Out & Back shuttle 4 person minimum
$40 each person----- Rentals with Morning Shuttle Bus ride 4 person minimum
$35 each person----- Rentals without Shuttle Service 4 person minimum
Children
$10 each child---------under 10 yrs. riding with 4 paying adults
****$50 Tank Deposit to guarantee reservation
Tubing!
Take a trip through the canyons and meadows of the Niobrara River wonderland on a giant river tube! These tubes are 66" round and are perfect for one adult sized person to relax on. Your tubes will be delivered to the river for you with a PFD, and picked up at your finish point. We offer 2, 4 or 6 hour river trips. Cooler tubes are also available.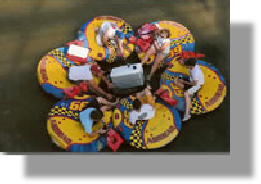 Canoes!
We offer the highest quality canoes available for rent in the area. These canoes will be delivered to the river for you, complete with life jackets and paddles for each canoe rental. We recommend 2 people per canoe, except in the event of small children or uneven-numbered groups.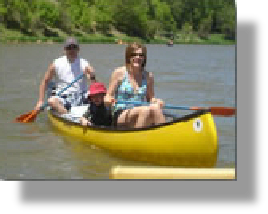 Kayaks!
We have an outstanding line-up of kayaks to accommodate any size paddler. Most of our kayaks are the traditional "Sit-In" Kayaks, but check to see if we have any "Sit-On" kayaks available. We have tandem or solo kayaks available. Your kayak will be delivered to the launch site with life jackets and paddles for each kayak rental.
Transportation!
We have a variety of transportation services available to get you back and forth from the river. Check out our following options.
Deluxe Out & Back Shuttle Service
This service will be available for 4 or more people, and will offer flexible start times. We can pickup at local motels/camps and will transport to the launch area, then pick your group up at the destination for a ride back. Please call ahead for availability.


Morning and Mid-Morning Shuttle Bus
With daily stops at Stan's Landing, Brewer Bridge, Smith Falls, and Berry Bridge . You can park your vehicle at your destination and catch a shuttle to the launch site, grab some equipment and float at your own leisure back to your vehicle. This is a very popular service. Please call ahead to with destination of your choice and to reserve seating. (please check bus ride schedule)
Bus Schedule
Stan's Landing @ 9:30 am • Brewer Bridge @ 9:45 am
Berry Bridge @ 10:00 am • Smith Falls @ 10:45 am
Berry Bridge @ 11:00 am • Brewer Bridge @ 12:00 Noon
Berry Bridge @ 12:15 pm
All times are approximate, Prompt arrival time is greatly appreciated.
Car Shuttle Service
We will be available to move your vehicle from your start point to your finish point.
Choose your own start time. No bus schedules to meet.
Car Shuttle Fees: Per Vehicle
to Berry Bridge----------------$45
to Smith Falls------------------$50
to Brewer Bridge-------------$50
to Stan's Landing------------$55
to Last Chance Landing----$60
2-day double car shuttle--$95
Please Be Advised
All trips starting at Cornell Bridge will travel through the Fort Niobrara Wildlife Refuge (http://www.fws.gov/valentine). Alcohol, radios and squirt guns are prohibited.
All people starting at Cornell Bridge must have a permit to travel through the Fort Niobrara Wildlife Refuge. These permits are $1.00 per person and are available with equipment rentals.
When you stop to visit our beautiful Smith Falls, remember it is a Nebraska State Park, please do not take alcohol with you. If you are driving in to visit the falls, you will need a Nebraska Park Entrance Permit. Day Permits are sold on site for $4 each.
Most importantly, be safe and have an enjoyable trip!
Trips ending at Berry Bridge, Smith Falls, or Brewer Bridge
$50 each person-----Rentals with Deluxe out & back shuttle 4 person minimum
$40 each person-----Rentals with Morning Shuttle Bus
$30 each person-----Rentals without Shuttle Service
Trips ending at Stan's Landing ---------------Add $4
Trips ending at Last Chance Landing-------Add $7
Trips starting at Ft. Niobrara Refuge-------Add $1
Children
$10 each child------- under 10 yrs. riding with paying adult ****$20/Canoe Deposit to guarantee reservation
For Trips ending at Berry Bridge, Smith Falls, or Brewer Bridge
$50 each person --- Rentals with Deluxe Out & Back Shuttle 4 person minimum
$40 each person------Rentals with Morning Shuttle Bus
$30 each person------Rentals without Shuttle Service
Trips ending at Stan's Landing ------------Add $4
Trips starting at Ft. Niobrara Refuge-----Add $1
Cooler Tubes
$10 for black cooler tube (fits hard sided chest cooler)
$15 for cooler carrier ( fits any size cooler or soft bags)
Children
$10 each child--------- under 10 yrs. sharing tube with paying adult
$20 each child--------- under 16yrs. sharing tubes together
****$10 Tube Deposit to guarantee reservation
Trips ending at Berry Bridge, Smith Falls, or Brewer Bridge
$50 each person----- Rentals with Deluxe Out & Back shuttle 4 person minimum
$40 each person----- Rentals with Morning Shuttle Bus
$30 each person---- Rentals without Shuttle Service
Trips ending at Stan's Landing--------------------Add $4
Trips ending at Last Chance Landing- -----------Add $7
Trips starting at Ft. Niobrara Refuge--------Add $1
****$20/Kayak Deposit to guarantee reservation